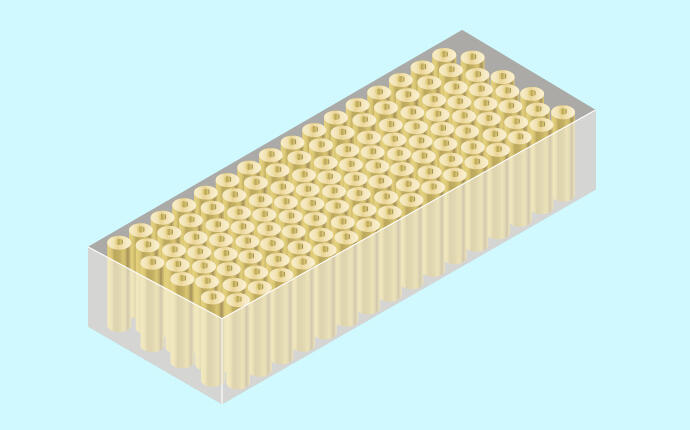 Two-part room temperature curable thermal conductive epoxy resin that dissipates heat from bonded parts
Demand for electric vehicles is rapidly expanding against the backdrop of global greenhouse gas emission reductions. Large-capacity lithium-ion batteries are mainly used as batteries for driving electric vehicles. However, large-capacity lithium-ion batteries have a risk of lowering discharge efficiency or catching fire due to heat generated during driving.

Therefore, the adhesive used in these areas is required not only to have adhesive strength, but also to have thermal conductive properties that allow the heat of the bonded parts to escape and flame retardancy that does not burn easily when ignited. In addition, there is a demand for a two-part room temperature curing type adhesive with good workability that can be cured without exceeding the heat resistant temperature of the battery.
Has excellent heat dissipation characteristics.
Flame-retardant standard (vertical flame-retardant test) UL94V-0 equivalent.
Since it is a two-part room temperature curing type, curing equipment such as a heating furnace is not required.
High adhesive strength.
Heat dissipation and adhesion of in-vehicle battery
Adhesion and sealing of parts that may catch fire
Adhesion and sealing of parts that cannot be heated
The heat-dissipating adhesive consists of a resin binder and a heat-dissipating filler. By selecting a resin binder that has adhesiveness to various materials and optimizing the filler, we have succeeded in developing a product that has heat dissipation and flame retardancy, as well as higher adhesive strength than conventional products. In addition, by using a two-part type that can be cured at room temperature, the heat source can be eliminated and the effect on parts with low heat resistance can be minimized.
Properties and general characteristics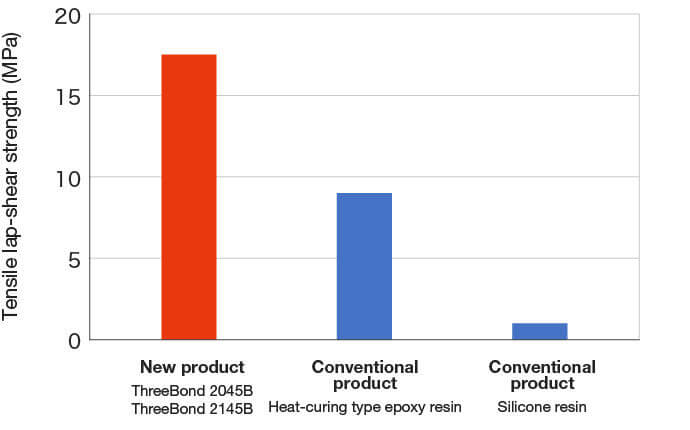 Material: Fe/Fe (SPCC-SD)
Relationship between curing time and adhesive strength at 25°C
Material: Fe/Fe (SPCC-SD)
Mix base agent and hardener and bond the parts together. It can be temporarily fixed in about 6 hours after bonding, and reaches practical strength after 10 hours.