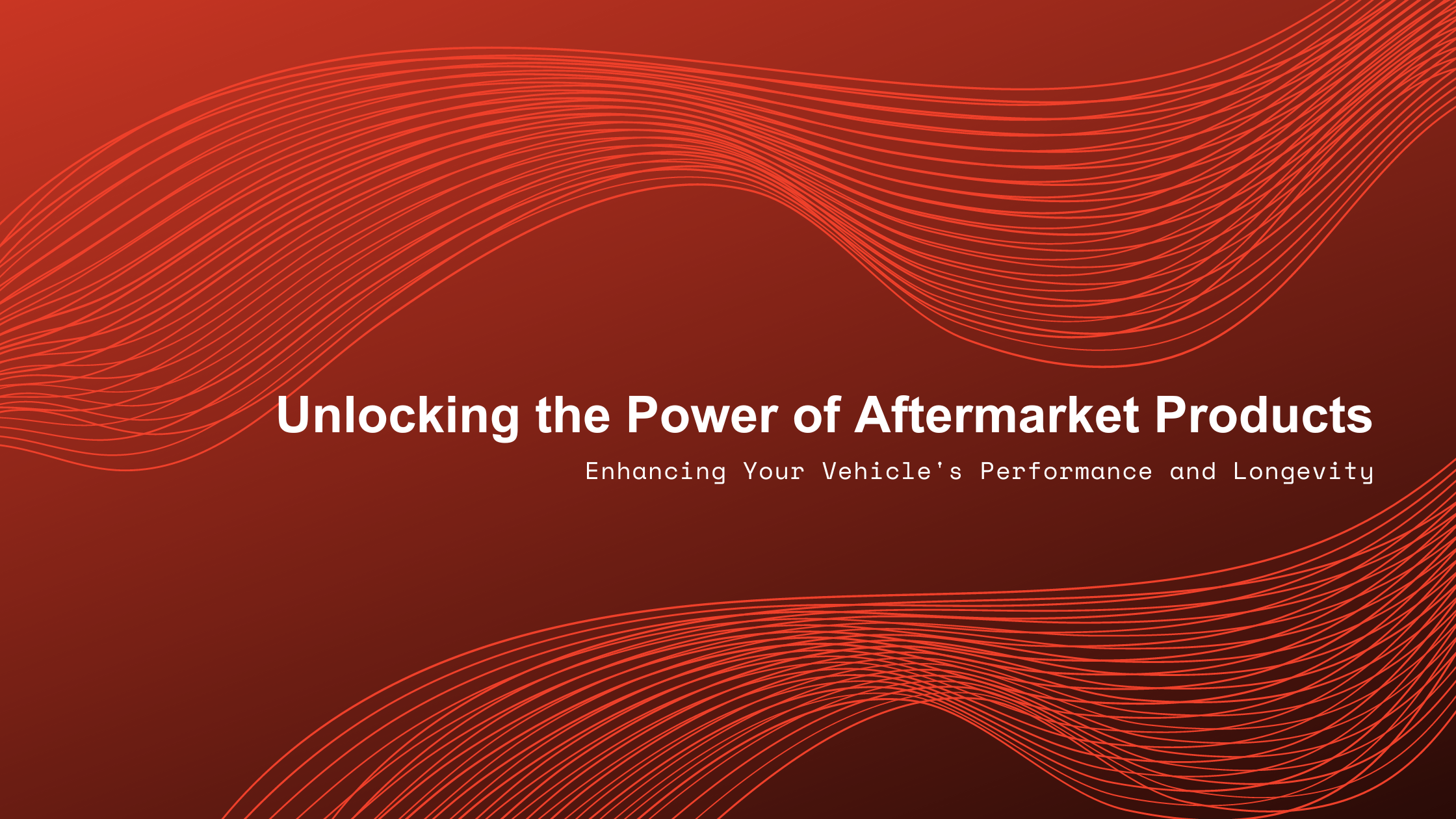 Unlocking the Power of Aftermarket Products: Enhancing Your Vehicle's Performance and Longevity
When it comes to vehicles, the quest for better performance and longevity is a universal pursuit. Beyond the factory standards and original components lies a world of possibilities known as aftermarket products. These products are the hidden gems that have the potential to take your vehicle's performance to new heights while extending its lifespan. In this article, we delve into the realm of aftermarket products, exploring their significance and the multitude of ways they can transform your driving experience.
Understanding Aftermarket Products
The term "aftermarket products" refers to a broad range of components and enhancements that are not manufactured by the original vehicle producer. This vast category encompasses everything from performance upgrades to aesthetic enhancements and advanced technology integrations. This variety empowers vehicle owners to tailor their rides according to their preferences and needs, offering a level of personalization.
Enhancing Vehicle Performance and Longevity with Aftermarket Products
Exterior Upgrades:
Body Kits: Alter aesthetics and aerodynamics, boosting efficiency by reducing drag.
Spoilers and Wings: Enhance stability and handling at high speeds.
Protective Coatings: Safeguard paint and surfaces against environmental wear.
Interior Enhancements:
Custom Seat Covers: Elevate aesthetics and protect upholstery simultaneously.
High-Quality Floor Mats: Maintain cleanliness and preserve the interior's appeal.
Advanced Infotainment Systems: Add convenience and entertainment to your drive.
Coating Products:
Ceramic Coatings: Provide gloss, hydrophobicity, and contaminant resistance to paint.
Paint Protection Films (PPF): Shield against chips, scratches, and abrasions.
Wheel Coatings: Protect and enhance wheel appearance.
Glass Coatings: Improve visibility and repel dirt on windows.
Trim and Plastic Coatings: Prevent fading and UV damage on plastic surfaces.
Enhancing Vehicle Performance with Exterior and Interior cleaning Products: Automotive Aftermarket Sector
Engine Enhancements:
Performance Air Filters: Boost combustion efficiency, horsepower, and torque.
High-Flow Exhaust Systems: Increase engine power and fuel economy.
Power Boosters (Turbochargers and Superchargers): Introduce forced induction for exhilarating performance.
Handling and Suspension Upgrades:
Upgraded Shock Absorbers: Smooth out uneven terrain for a better ride.
Enhanced Suspension Kits: Customize and elevate handling and comfort.
Stabilizer Bars: Enhance cornering stability and control.
Electronics and Technology Upgrades:
Performance Monitoring Tools: Gain real-time insights into engine performance and efficiency.
Advanced Infotainment Systems: Enjoy touchscreen controls and seamless smartphone integration.
Enhanced Navigation Systems: Navigate confidently with accurate and up-to-date information.
Visit Here and choose a product whose need your vehicle: EV (Electrical Vehicle Product Market)
Maintenance and Protection Products:
High-Performance Brake Systems: Improve safety with enhanced braking power.
Durable Protective Coatings: Defend against scratches, UV damage, and weather effects.
Corrosion-Resistant Materials: Extend component life by resisting rust and corrosion.
Unlock the potential of your vehicle's performance and longevity with these aftermarket products. Whether you're looking to enhance aesthetics, boost power, improve handling, or protect against wear, ThreeBond India offers a comprehensive range of high-quality solutions. Elevate your driving experience and ensure your vehicle stays in peak condition with these innovative upgrades.
Visit Here and choose a product whose need your vehicle: Maintenance Agents and Consumables.
ThreeBond India: Elevating Your Aftermarket Experience
At ThreeBond India, excellence is more than just a promise—it's a commitment to delivering the best possible solutions to meet your automotive needs. With a wide range of products designed for the automotive aftermarket segment, ThreeBond India takes pride in offering you high-quality options that enhance your vehicle's performance and durability.
Super Sealer (High Temp. RTV): This one-component silicone sealant is engineered to secure engine parts by preventing oil and water leakage. With excellent oil and heat resistance, it guarantees protection even in extreme conditions.
Instant Glue (Cyanoacrylate Adhesive): Experience rapid bonding and secure adhesion in just seconds with this solvent-free instant adhesive. Its versatility makes it suitable for various materials, making quick fixes a breeze.
ThreeBond 4120E (Polyurethane Sealant): Seal your vehicle's glass components with confidence using this polyurethane sealant. Offering excellent weather resistance, it ensures that your windshield glass and other parts remain securely bonded.
ThreeBond 6501G (Car Rat Repellent): Keep pesky rodents at bay with this unique formulated odor-based repellent. Protect your vehicle's wiring and components from potential damage caused by rats and mice.
ThreeBond 1816D (Chain Lubricant Spray): Enhance the lifespan of your vehicle's chains with this chain lubricant spray. Its high load, friction, and wear resistance ensure that your chains stay in optimal condition.
Super Cleaner Throttle Body & Carbon: Maintain your engine's efficiency with this cleaning agent designed to remove dirt, grease, and carbon deposits from throttle bodies and other parts.
Anaerobic Adhesive And Sealant (Super Lock): Prevent threaded parts from loosening with this heavy-duty sealing and locking agent. Its high strength ensures that your vehicle's components stay securely in place.
ThreeBond 3911D (Gasket Remover): Simplify the removal of old gaskets and sealing materials with this heavy-duty agent. It's a time-saving solution for maintaining and repairing your vehicle's components.
ThreeBond 2501S Rust-preventing Lubricant And Protectant For Electrical Contact Points: Keep your electrical contacts in optimal condition with this lubricant and protective agent. It reduces contact resistance and prevents corrosion.
These are just a few examples of the impressive lineup of aftermarket products offered by ThreeBond India. With a focus on quality, innovation, and customer satisfaction, ThreeBond products are engineered to meet the diverse needs of vehicle owners and enthusiasts.
Conclusion
As vehicle owners, we take pride in keeping our cars in the best possible condition. Aftermarket products play a crucial role in achieving this goal, allowing us to enhance performance, extend longevity, and maintain the value of our vehicles. With ThreeBond India's range of top-notch products, you can confidently unlock the power of aftermarket solutions and elevate your driving experience to new heights. Experience the difference that high-quality aftermarket products can make for your vehicle and drive with confidence on the road ahead.