Electronic parts protecting-agents/heat dissipating resins
It maintains the stable functionality of various OA equipment, electronic equipment, and precision instruments.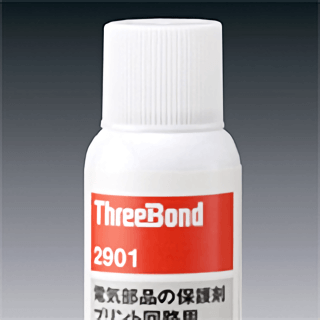 Package size & Color
150 ml
ThreeBond 2901 is silicon based moisture-, rust-, and heat resistant coating. When sprayed on electrical circuit components and insulators, it forms a simple heat resistant film. The film goes a long way to protect the durability and performance of components.
Features
Increase the durablity and performance of components.
Silicon based moisuture,rust and heat resistant coating.
Application
Protects against moisture and reduces insulation in power transformers, HF coils, ordinary coils, resin-covered printed circuits, ordinary electrical circuit components, TV, radio, tape recorder parts, and auto parts.
Protects against corrosion by Sulphur gas, etc. on printed circuits and parts for electrical appliances in warm climates or industrial zones.
Protects against salt-water corrosion in power station, transformers, TV antennas, etc.