Industrial Adhesives / Single Component, Moisture-Curable Elastic Adhesives
This product is an industrial adhesive whose major components are synthetic rubber (solvent-based) and special polymer (non-solvent-based, moisture curable). It has particularly strong initial adhesion, and it does not lose elasticity after bonding.
Package size & Color
150ml, 80gm,1kg
ThreeBond 1521 (Multi-purpose Rubber Adhesive)
ThreeBond 1521 is a high-performance multi-purpose bonding agent made with synthetic rubber and synthetic resin. 
Features
It can withstand temperature up to 100°C after proper curing.
Application
Use fingers, brush, spatula, spray gun or roller depending on size of surfaces.
Remove moisture, oil, dust, rust, oxide film, etc. completely from the surface.
For metal surfaces, scrape off rust, oxide film, etc. with fine sandpaper, and sandblasting.
Bonding at room temperature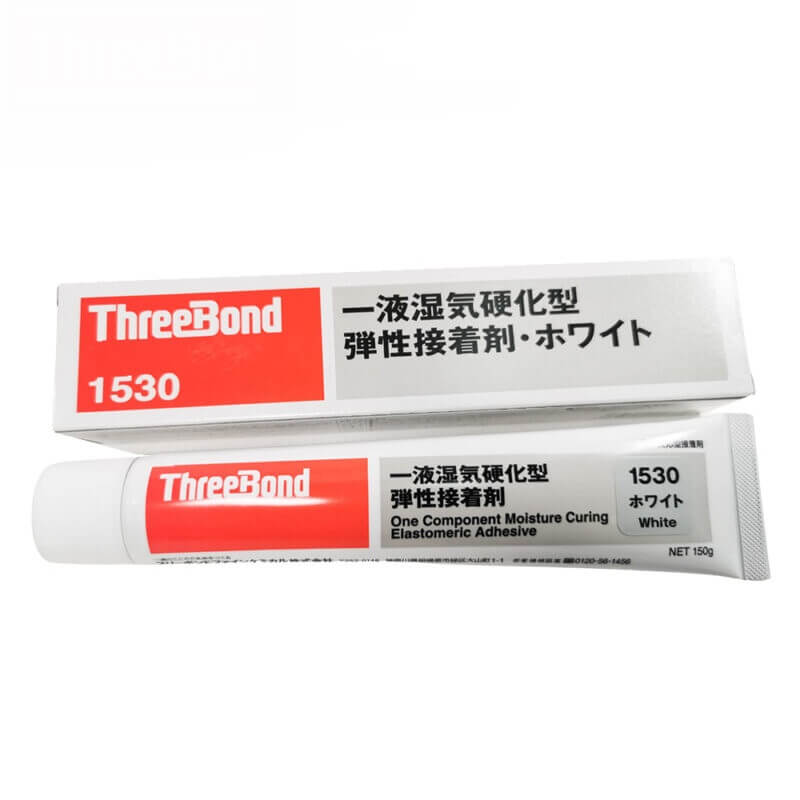 Package size & Color
100gm, 150gm, 460gm, 20kg
ThreeBond 1530 (Single-component, Moisture cure type Elastic Adhesive)
ThreeBond 1530 is a single-component elastic adhesive, which cures in the presence of moisture. The polymer material contains silyl functional group, which will react with the small amount of moisture to cure. This product is different in that 7 minutes after applying (23°C, 50% relative humidity), a strong adhesion is formed, without the use of temporary fixation.
There will not be low molecular weight cyclosiloxane produced during cure. Hence, it will not affect the electronic contact points.
Features
Does not contain any solvent, environmentally friendly.
Low odor, Single component, rapid curing.
Does not require any light or heating equipment.
Good initial strength, hence, does not require any temporary fixing.
Elastic material. Hence, good peel strength, together with good impact and vibration resistance. 
Good adhesion to different adherents.
Good adhesion with metal, plastic, rubber, wood and inorganic materials.
Application
Bonding to different materials possible (multi-purpose). Sealing, molding and potting purpose.
This can be used in similar applications as RTV silicone (sealant, potting agent).
Package size & Color
1500cc, 1kg
ThreeBond 1541G (Water Soluble Adhesive)
Three Bond 1541G is a one component, water soluble adhesive which has a main ingredient of acrylic emulsion.
Features
Quick drying time
Water solvent therefore non-contaminating and non-combustible.
Water absorption and heat resistance
One application on one side provides effective bonding
Inexpensive. Small amount covers a wide area.
Bonds styrene foam.
Application
Remove rust, oil, moisture, etc from surface.
Can be applied by brush, roller, spatula, spray etc.
If the surface has absorbed water, apply on one side only. If the surfaces has not absorbed water, apply to both sides.
Open time: If the surface has absorbed water, it is possible to bond the surfaces immediately after applying the adhesive. If initial adhesion strength is required, bond the surfaces if the adhesive colour is white or semi-transparent.
Package size & Color
80gm, 1kg, 15kg
ThreeBond 1561 (Pando 156A) (A URETHANE BASED ADHESIVE FOR PLASTIC)
ThreeBond 1561 is an extremely strong URETHANE BASED ADHESIVE for the use with plastic materials. It is distinct from other gum-based adhesive in that it has a clean finish. Their adhesive is particularly effective in soft plastic and bags. Being extremely soft it is also applicable to plastic sheets.
Features
Effective for chloridation vinvyl ABS, Polycarbonate and plastic resin, especially soft chloridation vinvyl which adhere very well.
High heat tolerance.
Remains soft and manageable even after setting.
Clear and smooth finishing.
Effective on an initial adhesive.
Its strength is not affected by the chemical contents of the plastic.
Application
Plastic components and parts in car, electric appliances, buildings, shoes and toys.
Chloridation Piper, interior of electric appliance, Chloridation processed goods, urethane rubber shoes, toys, plastic-based material, urethane synthetic leather, chloridation ball and umbrellas.