It is a liquid material that seals various types of flanges and pipes with threads. We have a wide selection of grades so that you can choose the right one for the condition of the application site.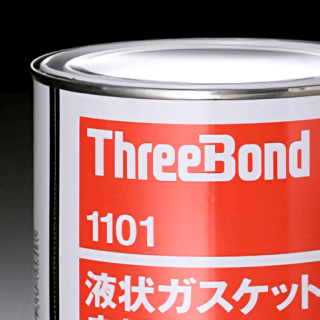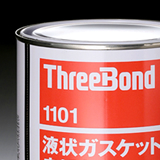 Package size & Color
200gm, 1kg
ThreeBond 1101 is a non-drying type solventless liquid gasket.
Features
It has excellent water resistance and seawater resistance.
It is possible to use it together with a solid sheet gasket because there is almost no effect on rubber.
It is easy to remove, so it is optimal for sealing joints that require periodic disassembly and overhauling.

Application
Sealing of various types of flange surfaces
Use with solid gaskets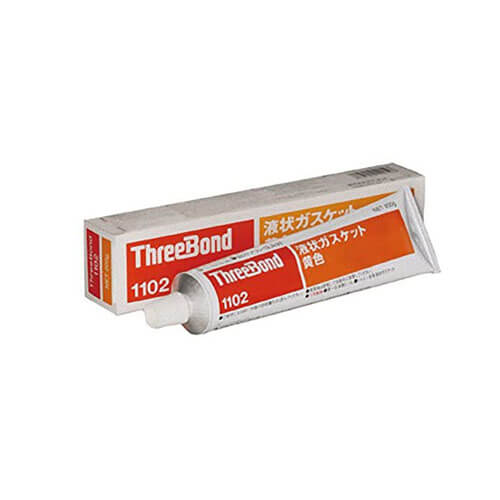 Package size & Color
200gm, 1 kg 
ThreeBond 1102 is a high-viscosity, yellow-color, and non-drying liquid gasket. It can completely fill all imperfection on surfaces that needs to be sealed, thus keeping it air-and water-tight. As it is in a non-drying liquid form, joints can be easily dismantled and cleaned.
Features
Non-drying type having strong adhesion. By forming a thin layer, it prevents leakage from metal surfaces without adhesive.
Also effective in preventing leakage from threaded fasteners.
Apply with brush, oiler or Three Bond Flow Gun.
Tightens joints 2-4 minutes after application.
Keeps container air-tight when not used.
Flammable before curing.
Keep away from fire.
It has excellent resistance to oil.
Application
Sealing of various types of flange surfaces
Use with solid gaskets
Package size & Color
150gm, 1 kg
ThreeBond 1105 is a synthetic rubber based gasket in viscous fluid form, which makes an elastic and strippable film in several minutes after application. As the formed film is resilient.


Features
High resistance to vibration and shock.
It forms an elastic and strippable film 3-5 minutes after application.
It is resistant to oil and gasoline.
Application
It works effectively when used in vibrating joint flanges and threaded fasteners.
ThreeBond 1121 is a non-drying non-solvent liquid gasket with a special synthetic resin as its primary component. It is usable together with solid gaskets.
Features
Non-solvent type non-drying gasket.
Coated surfaces can be easily removed, and working efficiency is improved.
Application
Sealing of various types of flange surfaces
Use with solid gaskets
Package size & Color
333ml
ThreeBond 1133EC is a one component liquid gasket developed for sealing applications by preventing
leakage of oils, water and gases under pressure at joining surfaces; it provides excellent resistance to
contact fluids, shock and vibration. By maintaining its functionality over a wide range of temperatures and
for an extended period of time it can improve the performance of equipment, extend the functional life
and reduce the total cost.
Features
Methacrylate based resin
One component solvent free
Anaerobic curing
Service temperature : -60 / +150°C
Powertrain sealant, flange sealant
Application
Prior to opening the container, let it reach room temperature to avoid condensation inside.
To obtain optimal results, remove humidity, grease and other impurities from the surfaces to
be assembled.
Depending on the materials (dimensions and surface roughness), apply an appropriate and uniform amount of liquid gasket on the surface, then assemble rapidly.
ThreeBond 1184 is a semidrying liquid gasket whose main component is special synthetic rubber. After it is applied and dried, it forms a rubber-like elastic body. Since it excels in padding property, it shows a high sealing effect even on bonded surfaces with poor flatness and large clearance. In addition, it has excellent resistance to water, oil and gasoline.
Features
Good padding property – It shows an excellent sealing effect even on bonded surfaces with poor flatness
and large clearance.
Excellent resistance to vibration and impact –  After applied and dried, it forms a rubber-like elastic body and exhibit excellent resistance to vibration and impact.
Excellent resistance to high and low temperatures – It keeps stable rubber elasticity in a wide temperature range from -40°C to 150°C.
Excellent resistance to water and oil
Effective in preventing leak from threaded portions
Application
Sealing of flange surfaces and threaded portions
Applicable to sealing of flange surfaces with large clearance